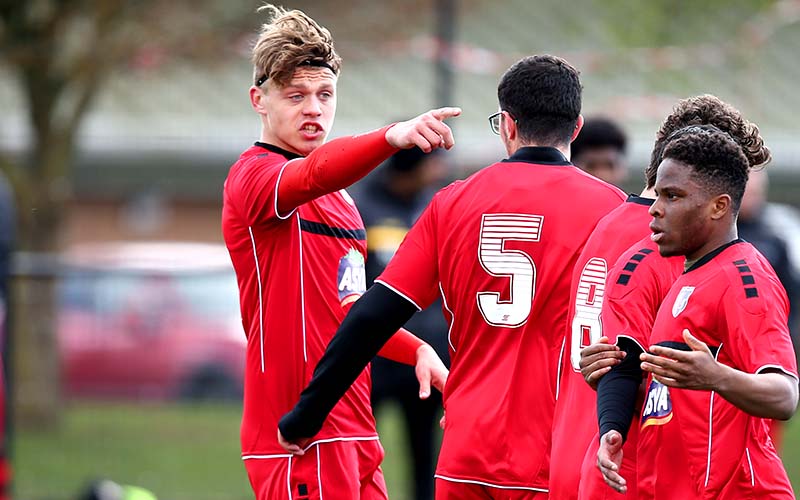 Chiappo: "They really improved me as a player and as a person"
Posted Friday 14th January 2022
Italian student Francesco Chiappo talks about NTFC IFA after attending the taster course in spring.
How did you find the course?
It was really good. There were some really nice sessions that were created by the coach, Fran [Constancio], and they were very interesting and helpful, and they really improved me as a player and as a person too. He knows how to explain something so if you have a problem you just need to speak to him and he is going to tell you everything, he knows how to solve problems.
What are the key things that you will take away?
One of the most important things is definitely how to become a better leader. I used to speak a lot on the field but I could have done more and the coach taught me how to do that better. He said to be a good person on the field but also outside of the football pitch, so it was really helpful.
Was playing against the Northampton Town youth teams an experience that you will remember fondly?
Yeah definitely. I'm a centre-back so I played against their strikers and they were very good, even the wingers; they gave us a good challenge. It was a pleasure to play against them.
Former central defenders Colin Calderwood and Grant Brown were part of the NTFC IFA coaching staff and they both achieved a lot in their playing careers. How nice was it to have them around?
They are very experienced. They know what they're doing and they're good at what they do.
You've had some experience with football academies before, was this something different?
It was different because we played against a really strong side like Northampton Town. It was a really good way to come back and restart games, here at Moulton College with the facilities.
What did you make of the facilities at Moulton?
Very good. It's the second time of me coming here, I enjoyed it the first time and I really like training here, the facilities are really good – I do recommend it.
You didn't just work on the pitch, you completed match analysis and Institute of Sport courses as well. What was the theory side of NTFC IFA like?
You learn a lot about the sport, and there's a lot more not only related about football, but can be related to many other sports and that teaches you a lot about other people's responsibilities and roles – that's an extra advantage.
Would you recommend this to other people?
Definitely. If you want to improve not only as a person but also as a football player, you should definitely be coming here; they teach you a lot and it is efficient. It does help people.