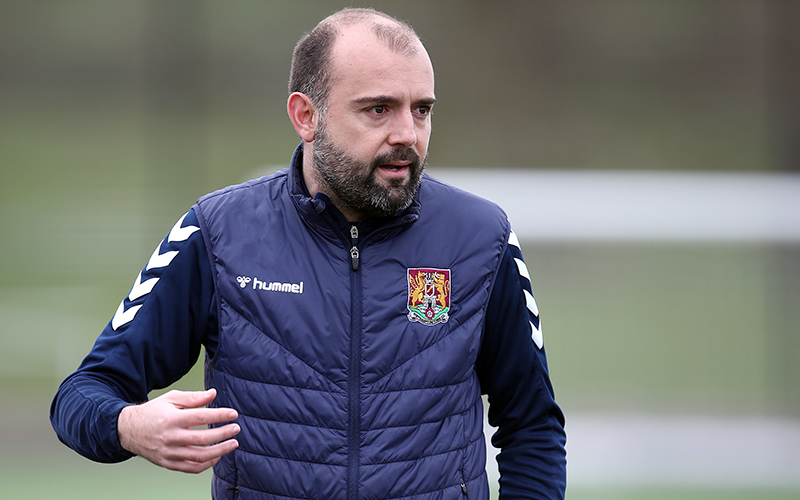 "I went home with a big smile"
Posted Friday 23rd April 2021
Coaches Colin Calderwood and Fran Constancio were full of positivity following the success of NTFC IFA's two-week taster course.
With both men involved in delivering part of the programme, which ran from 29th March to 11th April, the students were able to learn from two very different footballing backgrounds – Calderwood enjoyed a lengthy playing career at the highest level, while Constancio started coaching at 20 years old.
Born in Llíria, a Spanish town north of Valencia, Constancio's coaching journey began as a PE teacher before taking on leading roles at fourth-tier side Llíria CF and academy teams at Valencia CF and Atlètico Vallbonense.
Constancio previously played at Burjassot CF and Vallbonense after spending time in Valencia's famous youth system, which helped produce stars such as David Silva and Isco, but injury curtailed his own on-field career.
Coming from an international background, Constancio has found a close connection with the NTFC IFA group – which included players from all over the world.
"I understand that these kids come from different backgrounds and probably they are missing family or friends, as I do," said the former Biggleswade United Academy boss. "I just wanted to have fun with them.
"I would have liked to have had this opportunity when I was this young, to go abroad on my own. The first time I went abroad was when I was 25 and it was a big experience – and this lot were 16, 17, 18, it's amazing.
"The highlight [of the first two weeks] was the amazing group of kids that were involved. That's the most important thing – that they came with a smile on their faces, but also to work with the coaches that were around.
"They had the two games where some of the principles that we were working on in training, you could see in action. There were links and combinations that were very nice, and they beat the pressure very well.
"Kids develop not just on football, but they develop on values. Football can give you a lot of values like being humble, being a team player and being responsible about the facilities and equipment, and caring about your friendships.
"These types of courses are important because they give opportunities to other people and other cultures."
This is something that also enthuses Calderwood, who was named NTFC IFA head coach last October having managed Northampton Town, Nottingham Forest, Hibernian, and Cambridge United.
Currently working as an assistant head coach at League One club Blackpool, the former Tottenham Hotspur and Scotland defender came in to deliver an analysis session for the NTFC IFA students following their game against Northampton Town's U18 side.
"It's something that is very difficult, engaging and forming a cohesive team where you only have a fortnight, so to do what they did in that very short period is very impressive," said Calderwood.
"The longer the period you have together you can develop different things, and that's where the training plan and the schedule would come into it.
"The history of people that have come from academies will increase because not every club can cover every young player within football.
"Some people benefit from this more than being in a professional environment all the time. They might find their personality a little easier as they are not confined to one club, and those different experiences can make them a better all-round footballer.
"I've enjoyed being involved with things like this, and it's something that in the future I really want to get into and make more of a full-time role, trying to bring an influence with my experience."
The passion for developing young talents is also reflected by Constancio, who, along with former Lincoln City defender Grant Brown, was coaching the NTFC IFA boys from their first arrival at Moulton.
"They were quick learners and tried to listen," added Constancio. "That's massive for them because having a new coach with a different style of explaining things, maybe it was difficult for them. But they coped very well.
"They showed in every training session that they wanted to be there on the grass and try to improve, and they liked to compete.
"I always learn from every experience that I get, and if I don't go in with that mindset, I would be wrong. I have learnt from them, from the passion and the desire that they have been playing with.
"I enjoyed it myself and I went home with a big smile."